Occupational health and safety in small businesses: The rationale behind compliance
Abstract
Occupational health and safety (OHS), as a fundamental human right, forms the basis of the obligation of employers to employees, requiring employers to do what is right. Responsible management practices encompass cognisance of sustainability, responsibility as well as legal, financial and moral aspects related to OHS compliance. As point of departure, an overview of core OHS criteria for small businesses is provided, with reference to awareness of these criteria in the G20 countries.  This article utilises quantitative and qualitative data analysis to examine the reasons why small business owners/managers comply with occupational health and safety directives, such as the Occupational Health and Safety Act (OHS Act) and the Compensation for Occupational Injuries and Diseases Act (COIDA) in South Africa, determine if such reasons for compliance culminate in actual compliance, and determine the perceived effect of direct and indirect costs of OHS incidents. A total of 350 small business owners/managers took part in this study. The findings indicate that whilst small business owners/managers realise the rationale behind OHS compliance in terms of moral, legal and financial components, moral aspects related to OHS compliance are deemed most important. Small business owners/managers thus seem to realise the importance of OHS compliance. However, when it comes to adhering to their responsibility in terms of general safety regulations of the OHS Act and registration with the Compensation Fund as specified in the COIDA (as examples of actual compliance), small business owners/managers' compliance does not reflect such realisation. A model to enhance OHS standards in small businesses, encompassing legal, moral and financial rationales, is proposed.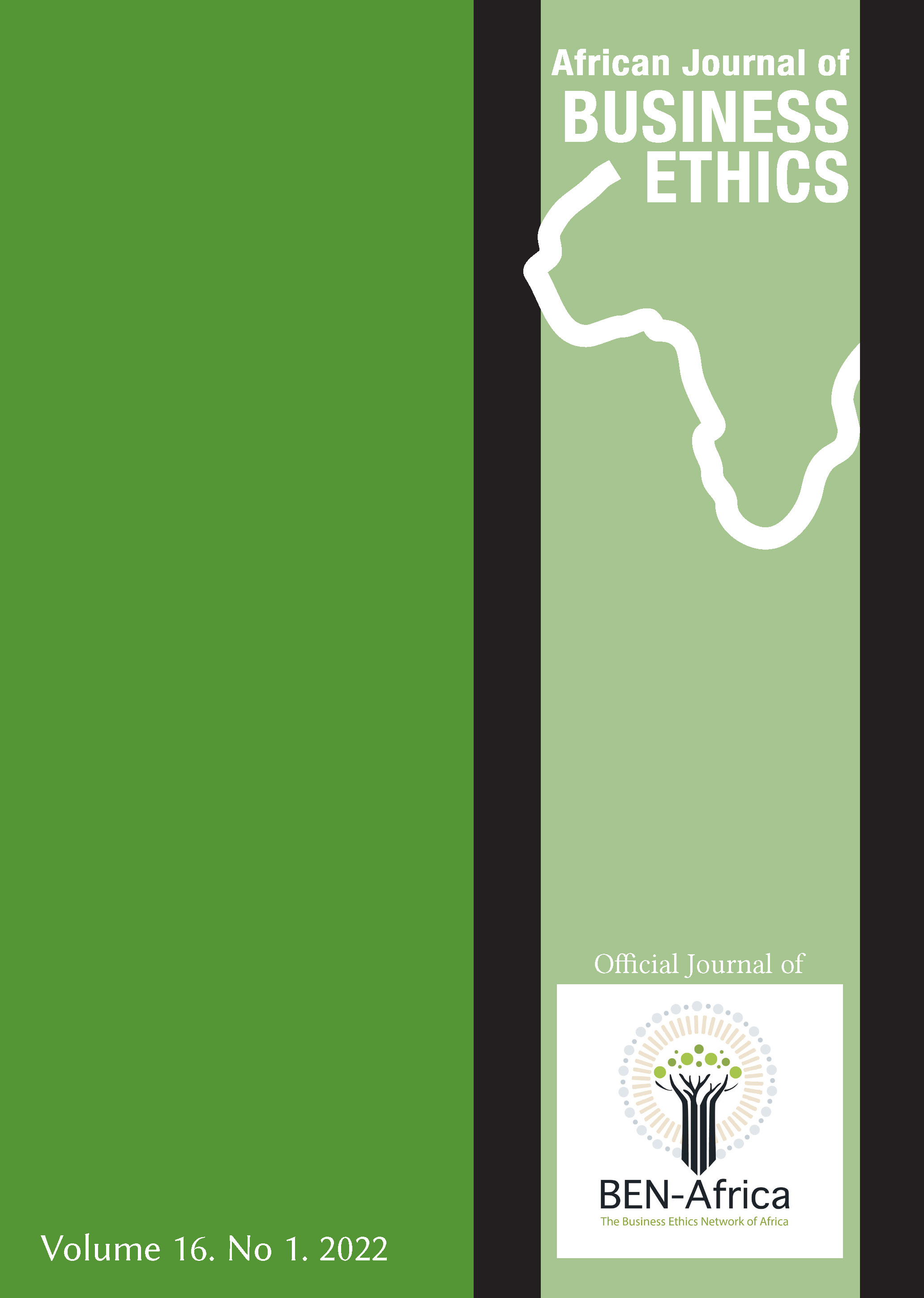 This journal is an open access journal, and the authors and journal should be properly acknowledged, when works are cited.
Authors may use the publisher's version for teaching purposes, in books, theses, dissertations, conferences and conference papers.
A copy of the authors' publisher's version may also be hosted on the following websites:
Non-commercial personal homepage or blog.
Institutional webpage.
Authors Institutional Repository.
The following notice should accompany such a posting on the website: "This is an electronic version of an article published in the African Journal of Business Ethics, Volume XXX, number XXX, pages XXX–XXX", DOI. Authors should also supply a hyperlink to the original paper or indicate where the original paper (http://ajobe.journals.ac.za/pub) may be found.
The following Creative Commons license applies:
This work is licensed under a Creative Commons Attribution-NonCommercial-NoDerivatives 4.0 International License.