Strong business–state alliances at the expense of labour rights in Ethiopia's apparel-exporting industrial parks
Mohammed Seid Ali

Bahirdar University

Solomon Molla Ademe

Woldia University
Abstract
In the past decade, Ethiopia has demonstrated a strong ideological convention to the East-Asian model of 'developmental state', which stands for state-led industrialisation as its underlying industrial policy premise. Nevertheless, the labour rights externalities of this industrial policymaking have been overlooked in the existing academic and practical policy debates.  Hence, using qualitative empirical data, the article attempts to address the research gap by analysing why and how Ethiopia's state-led industrialisation and the corporate behaviours of apparel-exporting firms, as well as their respective global brand buyers, have contributed to the existing poverty wages and repressive practices against the associational rights of local industrial workers at those selected apparel-exporting industrial parks of the country. The maxim of industrialisation with a human face has increasingly become a promising alternative to the neoclassical intellectual view of labour relations following its fundamentals towards achieving a more sustainable industrial development in a given state. In light of this human right imperative, the finding revealed Ethiopia's stateled industrialisation has firmly embraced strong business-state alliances, thereby curbing the power of local industrial workers. The Ethiopian government employs diverse de facto or de jure labour control mechanisms across those selected apparel-exporting industrial parks of the country. This is manifested through poverty wages and repressive measures todeny the associational rights of workers. Further, the flawed Corporate Social Responsibility (CSR) of employing firms and their respective global brands have contributed to the ongoing labour abuses across those selected apparel-exporting firms.  Hence, Ethiopia's industrial policy is expected to navigate a reasonable balance between facilitating industrial catch-up and ensuring labour standards for more viable and sustainable labour relations.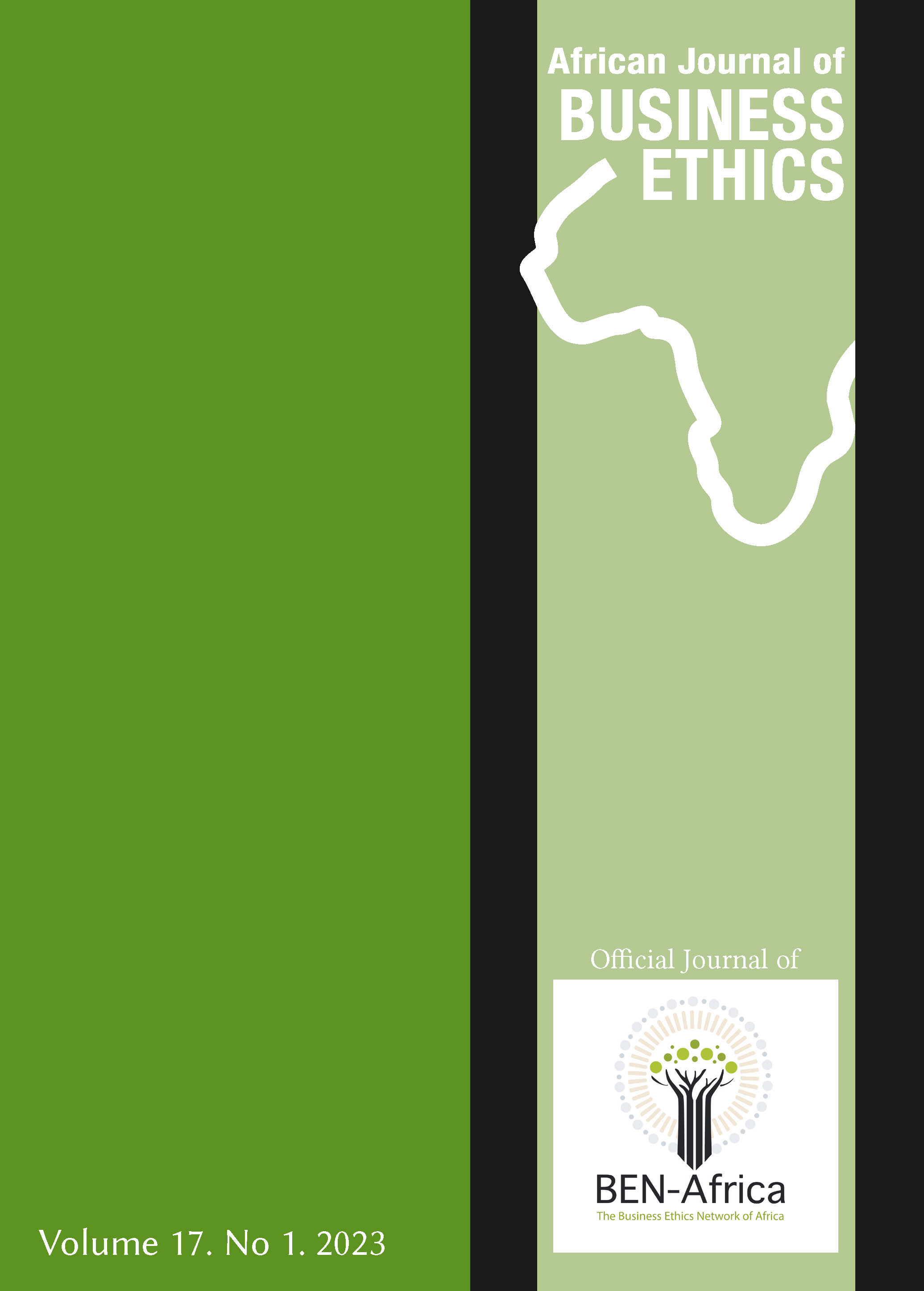 This journal is an open access journal, and the authors and journal should be properly acknowledged, when works are cited.
Authors may use the publisher's version for teaching purposes, in books, theses, dissertations, conferences and conference papers.
A copy of the authors' publisher's version may also be hosted on the following websites:
Non-commercial personal homepage or blog.
Institutional webpage.
Authors Institutional Repository.
The following notice should accompany such a posting on the website: "This is an electronic version of an article published in the African Journal of Business Ethics, Volume XXX, number XXX, pages XXX–XXX", DOI. Authors should also supply a hyperlink to the original paper or indicate where the original paper (http://ajobe.journals.ac.za/pub) may be found.
The following Creative Commons license applies:
This work is licensed under a Creative Commons Attribution-NonCommercial-NoDerivatives 4.0 International License.