Perceptions of governance in the animal welfare sector
Keywords:
animal shelters, charitable giving, donor trust, non-profit sector, stakeholders
Abstract
The purpose of the study was to gather information on perceptions of the current governance practices in shelters in South Africa and put forward recommendations to professionalise the sector at board/committee level. Through semi-structured interviews, this qualitative study sought out the views of 16 participants, both at board/committee and at operational levels, at companion animal shelters. The main findings indicate inconsistencies and flaws in the governance fabric in this sector, and point to the need for a coherent set of basic governance standards suitable for shelters. This study makes a contribution to the companion animal welfare sector by offering the first formal study into governance in this domain, and provides a foundation from which future research can be leveraged.
References
Aguilera, R.V. and Cuervoâ€Cazurra, A. 2009. Codes of good governance. Corporate Governance: An International Review, 17(3): 376–387.
Aguilera, R.V. and Jackson, G. 2010. Comparative and international corporate governance. Academy of Management Annals, 4(1): 485–556.
American Society for the Prevention of Cruelty to Animals (ASPCA). 2012. ASPCA policy and positions. Available online: https://www.aspca.org/about-us/aspca-policy-and-position-statements/definition-companion-animal [Accessed on 11 April 2015].
Aoki, M. 2001. Toward a comparative institutional analysis. Cambridge, MA: MIT Press.
Armstrong, P., Segal, N. and Davis, B. 2006. Corporate governance in South Africa (pp. 210–230). In Mallin C.A. (Ed.). Handbook on international corporate governance. London & Northampton: Edward Elgar.
Baapogmah, F.A., Mayer, R.W., Chien, W.W. and Afolabi, A. 2015. Control mechanisms and accountability challenges in nonprofit organizations. Global Journal of Business Research, 9(1): 27–38.
Balser, D. and McClusky, J. 2005. Managing stakeholder relationships and nonprofit organization effectiveness. Nonprofit Management & Leadership, 15(3): 295–315.
Bielefeld, W. 2013. The role of accountability in fostering nonprofit integrity (pp. 174–191). In Ammann, W. (Ed.) Integrity in organizations. London: Palgrave Macmillan.
Bottiglieri, W.A., Kroleski, S.L. and Conway, K. 2011. The regulation of non-profit organizations. Journal of Business & Economics Research, 9(9): 51–60.
Bright, J. 2017. Action research consultation: Implementation of a performance management system within a non-profit organization. Unpublished doctoral dissertation. Available online: https://asu-ir.tdl.org/bitstream/handle/2346.1/30681/BRIGHT-THESIS-2017.pdf [Accessed 10 July 2017].
Chikadzi, V. 2013. Board of directors as a critical factor in the success of social enterprises. Journal of Community Positive Practices, 13(2): 11.
Cornforth, C. 2001. What makes boards effective? An examination of the relationships between board inputs, structures, processes and effectiveness in non-profit organisations. Corporate Governance: An International Review, 9(3): 217–227.
Dent, G.W. Jr. 2014. Corporate governance without shareholders: A cautionary lesson from non-profit organizations. The Delaware Journal of Corporate Law, 39: 93.
Du Bois, C., Caers, R., Jegers, M., De Cooman, R., De Gieter, S. and Pepermans, R. 2007. The non-profit board: A concise review of the empirical literature. Journal for Public and Nonprofit Services, 30(1): 78–88.
Fernandez-Rodriguez, E., Gomez-Anson, S. and Cuervo-Garcia, A. 2004. The stock market reaction to the introduction of best practices codes by Spanish firms. Corporate Governance: An International Review, 12(1), 29–46.
Freeman, R.E. 1984. Strategic management: A stakeholder approach. Boston, MA: Pitman/Ballinger.
Griffin, T., Larcker, D.F., Miles, S.A. and Tayan, B. 2017. Board evaluations and boardroom dynamics. Stanford Closer Look Series. A corporate governance initiative. Available online: https://www.gsb.stanford.edu/faculty-research/publications/board-evaluations-boardroom-dynamics [Accessed on 10 July 2017].
Hudson, M. 2017. Managing without profit: Leadership, governance and management of civil society organisations (4th ed.). London: Directory of Social Change.
Institute of Directors. 2016. King IV Report on Corporate Governance for South Africa. Available online: http://www.iodsa.co.za/ [Accessed on 25 August 2017].
Issa Gazi, M. 2012. Social enterprise and good governance. ASA University Review, 6(2). Available online: http://www.asaub.edu.bd/data/asaubreview/v6n2sl8.pdf [Accessed on 20 October 2016].
Kuttner, R. 2008. Good jobs for Americans who help Americans. Available online: http://www.prospect.org/article/good-jobs-americans-who-help-americans [Accessed on 11 July 2016].
MacIndoe, H. and Sullivan, F. 2014. Nonprofit responses to financial uncertainty: How does financial vulnerability shape nonprofit collaboration? Journal of Management and Sustainability, 4(3): 1–15.
McClellan, C. 2014. Review of: Human resource management in the nonprofit sector: Passion, purpose and professionalism. The Philanthropist, 25(4). Available online: https://thephilanthropist.ca/original-pdfs/Philanthropist-25-4-536.pdf [Accessed on 10 July 2017].
Saifundraising 2012. The Independent Code of Governance for NPOs in South Africa. Available online: http://www.saifundraising.org.za/codes-for-ngos-in-south-africa [Accessed on 10 July 2015].
Nencini, A., Romaioli, D. and Meneghini, A. M. 2016. Volunteer motivation and organizational climate: Factors that promote satisfaction and sustained volunteerism in NPOs. Voluntas: International Journal of Voluntary and Nonprofit Organizations, 27(2): 618–639.
Nicholson, G., Newton, C. and McGregor-Lowndes, M. 2012. The non-profit board as a team. Non-profit Management and Leadership, 22(4): 461–481.
Paarlberg, L.E. and Varda, D.M. 2009. Community carrying capacity: A network perspective. Nonprofit and Voluntary Sector Quarterly, 38(4): 597–613.
Penner, L.A., Dovidio, J.F., Piliavin, J.A. and Schroeder, D.A. 2005. Prosocial behavior: Multilevel perspectives. Annual Review of Psychology, 56: 365–392.
Sacco, J. and Nagy, R. 2004. Accounting and management control in nonprofit organizations (NPO), accounting, reporting and management control (pp. 381–406). In Zimmer, A. & Eckhard, P. (Eds.). Future of civil society: Making central European nonprofit-organizations work (vol. 1). Wiesbaden: VS Verlag für Sozialwissenschaften. Available online: http://www.promente-jugend.at/xedaq/ src/uploads/docs/480.pdf [Accessed on 3 June 2015].
Schaltegger, S. and Wagner, M. 2017. Managing the business case for sustainability: The integration of social, environmental and economic performance. New York & London: Routledge.
Szper, R., and Prakash, A. 2011. Charity watchdogs and the limits of information-based regulation. Voluntas: International Journal of Voluntary and Nonprofit Organizations, 22(1): 112–141.
Taysir, E.A. and Taysir, N.K. 2012. Measuring effectiveness in nonprofit organisations: An integration effort. Journal of Transnational Management, 17: 220–235.
Trussel, J.M. and Parsons, L.M. 2007. Financial reporting factors affecting donations to charitable organizations. Advances in Accounting, 23: 263–285.
Turnbull, S. 2014, December 2. It's time to replace toxic governance with good governance. DOI: 10.2139/ssrn.2533220. Available online: https://ssrn.com/abstract=2533220 [Accessed on 30 November 2016].
Vecina, M. L., Chacón, F., Marzana, D. and Marta, E. 2013. Volunteer engagement and organizational commitment in nonprofit organizations: What makes volunteers remain within organizations and feel happy? Journal of Community Psychology, 41(3): 291–302.
Verschuere, B. and Beddeleem, E. 2013. Organisational governance features, innovation and performance in NPOs: Existing evidence and future research directions (pp. 33–55). In Gnan, L., Hinna, A. & Monteduro, F. (Eds.) Conceptualizing and researching governance in public and non-profit organizations. Bingley, UK: Emerald Group.
Wells, P. 2012. The non-profit sector and its challenges for governance. Journal of Leadership, Accountability and Ethics, 9(2): 83–93.
West, A. 2009. The ethics of corporate governance: A South African perspective. International Journal of Law and Management, 51(1): 10–16.
World Animal Net 2015. Animal Welfare and Development: Potential Roles and Responsibilities of Multilateral Development Organisations, Financial Institutions and Governments. Available online: http://worldanimal.net/our-programs/international-policy/animal-welfare-and-development [Accessed on 29 May 2018].
Young, M.N., Peng, M.W., Ahlstrom, D., Bruton, G.D. and Jiang, Y. 2008. Corporate governance in emerging economies: A review of the principal–principal perspective. Journal of Management Studies, 45(1): 196–220.
Zattoni, A. and Cuomo, F. 2008. Why adopt codes of good governance? A comparison of institutional and efficiency perspectives. Corporate Governance: An International Review, 16(1): 1–15.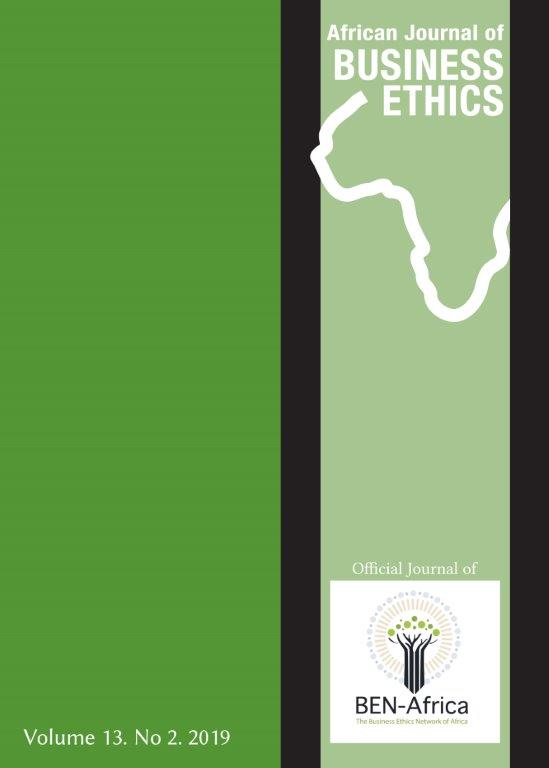 This journal is an open access journal, and the authors and journal should be properly acknowledged, when works are cited.
Authors may use the publisher's version for teaching purposes, in books, theses, dissertations, conferences and conference papers.
A copy of the authors' publisher's version may also be hosted on the following websites:
Non-commercial personal homepage or blog.
Institutional webpage.
Authors Institutional Repository.
The following notice should accompany such a posting on the website: "This is an electronic version of an article published in the African Journal of Business Ethics, Volume XXX, number XXX, pages XXX–XXX", DOI. Authors should also supply a hyperlink to the original paper or indicate where the original paper (http://ajobe.journals.ac.za/pub) may be found.
The following Creative Commons license applies:
This work is licensed under a Creative Commons Attribution-NonCommercial-NoDerivatives 4.0 International License.