Overcoming constraints imposed by fiduciary duties in terms of justice as a "Leadership Challenge that Matters".
Keywords:
Justice, fiduciary duty, John Rawls, Amartya Sen, Adam Smith
Abstract
This paper focuses on the issue of justice as a challenge facing business and society. I advance a simple deductive argument based on two premises. The first emerges out of theories of justice and holds that fairness, as a foundational basis for justice, demands impartiality or the avoidance of bias. The second emerges out of fiduciary law and holds that the duty of loyalty owed by managers to serve the interests of investors is fundamentally partial or biased. The conclusion is the troubling fact that the fiduciary duty of loyalty owed by managers to serve the interests of investors appears to be incompatible with the demands of justice. Having presented this, I describe the impartiality tools of Rawls' veil of ignorance and Adam Smith's impartial spectator and discuss how these might be applied in this context. I speculate that while Smith's impartial spectator is absolutely incommensurable with managers' fiduciary duty of loyalty, Rawls' veil of ignorance might be used to imagine a synthesis between this duty of loyalty and the impartiality demands of justice – in theory at least. And finally, as a parting shot, I wonder whether the real "Leadership Challenge that Matters†isn't the gap between theory and reality.
References
ALCRL. 2017. Fourth International Conference on Responsible Leadership: Leadership Challenges That Matter. Available online: http://www.up.ac.za/media/shared/213/ZP_Files/2016/2017-alcrl-4th_int_conf_rl_announcement.zp84866.pdf (Accessed on January 31, 2017).
Avini, A. 1995/1996. The origins of the modern English trust revisited. Tulane Law Review 70: 1139-1163.
Brudney, V. 1997. Contract and fiduciary duty in corporate law. Boston College Law Review XXXVIII(4): 595-665.
Buchanan, A.E. 1982. Marx and Justice. The Radical Critique of Liberalism. London: Methuen.
DeMott, A. 1988. Beyond metaphor: An analysis of fiduciary obligation. Duke Law Journal 1988(5): 879-924.
Easterbrook, F.H. and Fischel, D.R. 1993. Contract and fiduciary duty. Journal of Law & Economics XXXVI: 425-446.
Friedman, M. 1970. The social responsibility of business is to increase its profits. The New York Times Magazine September 13, 1970.
Hawley, J.P. 2015. Towards a fiduciary capitalism perspective on business ethics. (pp. 19-37) In Sun, W., Louche, C. and Pérez R. (Eds.) Finance and Sustainability: Towards a New Paradigm: A Post-Crisis Agenda. Bingley: Emerald Group.
Hawley, J.P., Johnson, K. and Waitzer, E. 2011. Reclaiming fiduciary duty balance. Rotman International Journal of Pension Management 4(2): 4-14.
Hawley, J.P. and Williams, A.T. 2000a. The Rise of Fiduciary Capitalism. Philadelphia: University of Pennsylvania Press.
Hawley, J.P. and Williams, A.T. 2000b. The emergence of universal owners. Challenge 43(4): 43-61
Hawley, J.P. and Williams, A.T. 2007. Universal Owners: challenges and opportunities. Corporate Governance: An International Review 15(3): 415-420.
Kamm, F.M. 2011. Sen on justice and rights: A review essay. Philosophy & Public Affairs 31(1): 82-104.
Marx, K. 1990. Capital Volume 1. London: Penguin Classics.
Rawls, J. 1971. A Theory of Justice. Cambridge, USA: Harvard University Press.
Rawls, J. 2005. Political Liberalism. New York: Columbia University Press.
Sandel, M.J. 1998. Liberalism and the Limits of Justice. Cambridge, UK: Cambridge University Press.
Sen, A. 2002. Open and closed impartiality. Journal of Philosophy 99(9): 445-469.
Sen, A. 2010. The Idea of Justice. London: Penguin.
Shin, J.M. 2015. Adam Smith's impartial spectator: His reliance on societal values, limits in inspiring altruism and application in today's context. Vanderbilt Undergraduate Research Journal 10: 1-10.
Smith, A. 1759. The Theory of Moral Sentiments. Pantianos Classics
Smith, T.A. 1999. The efficient norm for corporate law: A neotraditional interpretation of fiduciary duty. Michigan Law Review 98(1): 214-268.
Smith, D.G. 2002. The critical resource theory of fiduciary duty. Vanderbilt Law Review 551: 1399-1497
UNDP 2015. Human Development Report 2015. UNDP. Available online: http://hdr.undp.org/sites/default/files/2015_human_development_report.pdf (Accessed January 31, 201).
Valentini, L. 2010. A paradigm shift in theorizing about justice? A critique of Sen. CSSJ Working Papers Series. Oxford: University of Oxford.
World Bank. 2016. Development Goals in an Era of Demographic Change. Washington, USA: World Bank.
Young, J.T. 1002. Natural morality and the ideal impartial spectator in Adam Smith. International Journal of Social Economics 19(10/11/12): 71-82.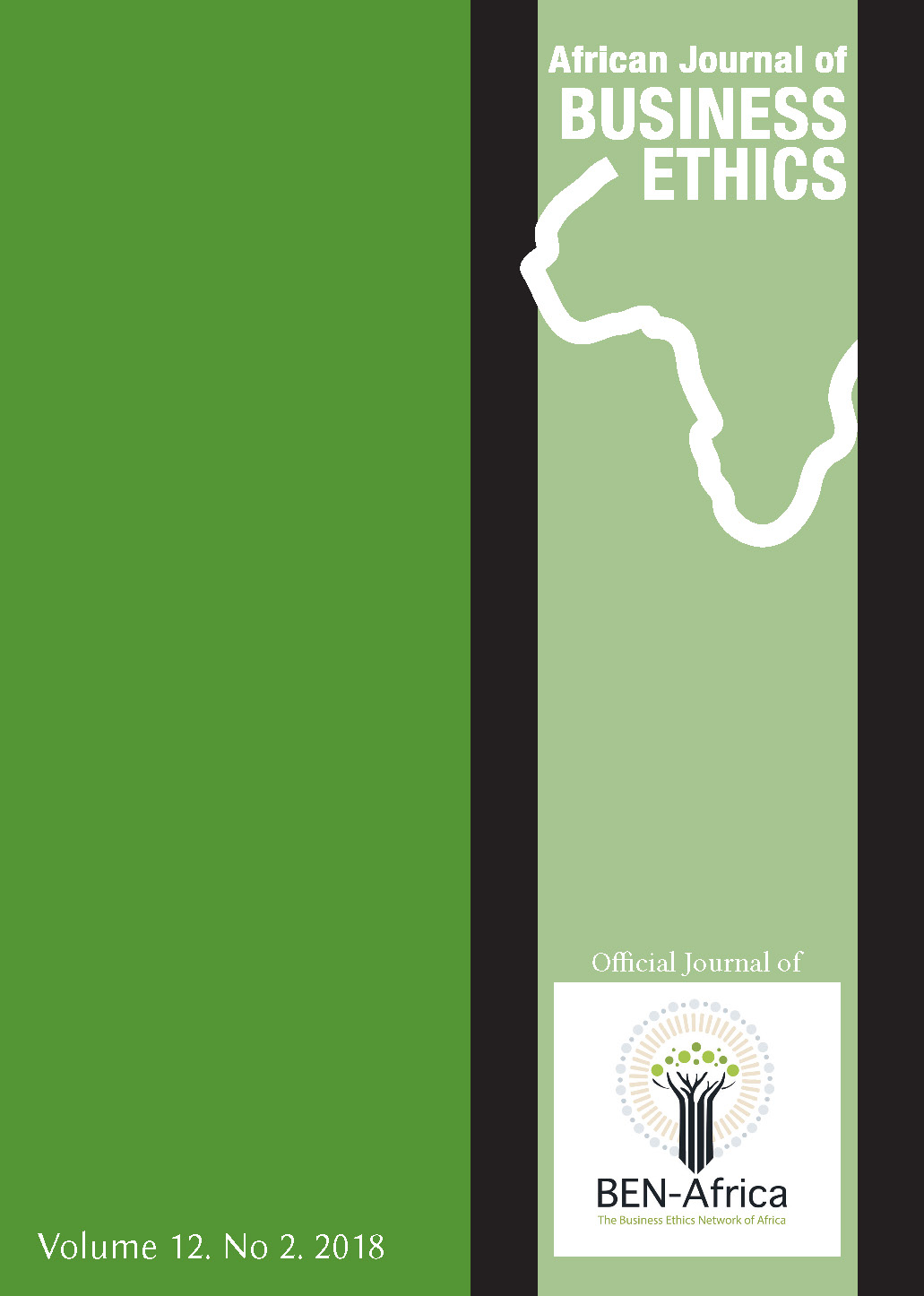 This journal is an open access journal, and the authors and journal should be properly acknowledged, when works are cited.
Authors may use the publisher's version for teaching purposes, in books, theses, dissertations, conferences and conference papers.
A copy of the authors' publisher's version may also be hosted on the following websites:
Non-commercial personal homepage or blog.
Institutional webpage.
Authors Institutional Repository.
The following notice should accompany such a posting on the website: "This is an electronic version of an article published in the African Journal of Business Ethics, Volume XXX, number XXX, pages XXX–XXX", DOI. Authors should also supply a hyperlink to the original paper or indicate where the original paper (http://ajobe.journals.ac.za/pub) may be found.
The following Creative Commons license applies:
This work is licensed under a Creative Commons Attribution-NonCommercial-NoDerivatives 4.0 International License.